Termite Inspection Sydney
Need a termite inspection?



Termites cause more damage to Australian homes than fires, storms and earthquakes, as termites eat wood from the inside out, by the time it is detected termite damage can be substantial.
Annual termite inspections on your residential or commercial property by a qualified timber pest technician is highly recommended.
Even though annual inspections are not going to prevent your home from getting termites it reduces the risk of major termite damage being done to your home.   Like most things early detection is the key as a developed infestation could be more expensive to treat!
By Australian standards it is recommended that termite inspections are conducted annually
Why do I need a termite inspection?
Termite inspections are the first step required to assess if a property has evidence of termites or other timber pests such as borers and if activity is found what steps need to be taken to manage the problem
Termite inspections are a vital part of all termite management programs.
As previously mentioned termite inspections should comply with the Australian Standard AS3660 recommendation that a termite inspection is completed annually.
Things do change around your property from year to year that might have encouraged a termite attack.
Termite Inspections are required on building structures however sometimes trees, retaining walls or other items can have timber pest activity. If this is the case we would also not just recommend having the infested items inspected but also the building structures inspected
Please Note: termite inspections will not eradicate existing termite activity  or provide any future protection from further attack.
What areas are checked with termite inspections?         
Accessible internal and external areas of your property
Roof cavity
Sub floor area if accessible
External areas extending up to 30 metres or the boundary line of your property.
Inspection of termite-friendly areas
What equipment is used?           
Termite inspections are performed using industry-best equipment including:
Sounding equipment
Moisture meters
Listening devices
Termatrac (a movement detection device based on microwave technology)
Access to additional advanced technology like thermal imaging cameras & termite sniffer dog is also available.
Pest Control Today technicians are Termatrac certified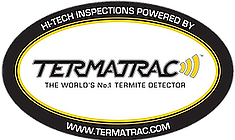 The Termatrac device gives us the ability to perform non-invasive inspections including identifying high risk termite areas.
The Termatrac allows the inspector to accurately detect, confirm and track the presence of termites locate nests, mud-leads and entry points.
This enables us to provide you with a more detailed report and allows us to treat your home more cost effectively.
With the aid of the termatrac we can access areas of your home that without this technology would not be possible. These areas include inside wall cavities and sub-floors without the need to cut traps and entry points.
The 3-in-1 functionality makes the Termatrac T3i the best available tool for Pest Control Professionals.

How long does a termite inspection take?          
Pest Control Todays' termite inspection process typically takes 1-2 hours.
 Termite Inspection Reports
At the completion of the inspection you will be issued with a written termite inspection report. This report is designed to give you an idea of your properties termite exposure and/or damage status.
The report will document if there was any visual evidence of a timber pest, a summary of the pests identified, if your property is at risk of a timber pest invasion.
It will also provide you with recommendations for improving the environment around your home. If activity was found where it was found, recommended treatment guide & advice on how to protect your home.



Each property, building and location is different, a customised management solution should be designed to suit your specific needs.
We would love to find out more on how we may be able to help you.
Click to call or  contact with us via the contact form available at our website.